St. Vincent and the Grenadines now has 38 more skilled persons in level 1 Caribbean Vocational Qualification (CVQ) Data Operations, Food and Drinks Service, Food Preparation and Cookery, Electrical Installation, and Welding.
These were the latest graduates from the Campden Park Technical Institute (CPTI), one of the four technical institutes in the country that are preparing their graduates with skills to meet opportunities – locally and abroad. The 2019 graduating class received their certificates and prizes in the presence of staff, Ministry of Education officials, family, friends and well-wishers.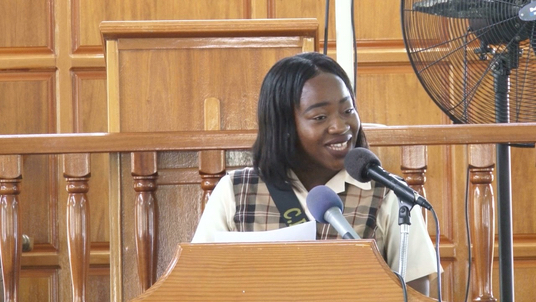 Eddika Peters (Valedictorian) received the award for Data Operations; Adonijah Adams, Electrical Installation; Kasha O'Garro, Food and Beverage Service; Shemiqueca John, Food Preparation and Cookery; and Daricia Delpesche, Welding. The graduation ceremony was held under the theme: "Where skills meet opportunity".
Principal of the CPTI, David Peniston, told the graduating class that graduation is a reminder that you have made it, that you have been successful. Peniston extended thanks to several private sector entities that have assisted the Institute in the past in terms of taking students on for internships. The CPTI Principal urged members of the audience and the public to employ the graduates so that they can gain experience and to make use of the services of the Institute.
The graduating class had support from the Ministry of Education in the person of Victoria Alexander. She extended congratulations to the graduating students on behalf of the Minister of Education, Hon. St. Clair Prince, the Permanent Secretary, Chief Education Officer and the rest of the staff of the Ministry.
Senior Education Officer with responsibility for TVET, Endall Johnson said education is more than just gaining subjects. Johnson stated that he is pleased that the education system is moving away from traditional forms of education. According to Johnson, many of the graduates would not have access to technical education were it not for the Access to another Nexus in Education (ANEW) initiative and other types of Government funding.
Johnson also revealed that the Bequia Community High School will be expanded with additional classrooms for a TVET wing and that plans are in place for the construction of a TVET centre in Union Island. He also stated that the four technical institutes on St. Vincent will be upgraded with smart classrooms.
Director of the National Qualifications Department, Kenroy Questelles, urged graduates to take advantage of opportunities locally and regionally. He called on the private sector to partner with the Institute to provide internships and/or jobs to graduates.
Valedictorian Eddika Peters expressed gratitude to her Teachers for the temperance, love and concern that they repeatedly displayed to her and her classmates. She said her Teachers took time to build relationships with them despite their rebellious ways. Peters described her time at the Institute as "amazing" and told her classmates that anything is possible once they put their minds to it.
The graduation ceremony was held on Friday, 28th June, 2019 at the Apostolic Faith Mission Church, Campden Park.