The Milton Cato Memorial Hospital (MCMH) is the recipient of a donation of three hundred sheets and three hundred pillow cases made possible through the Ministry of Foreign Affairs on behalf of the UK based - SVG Redding Association.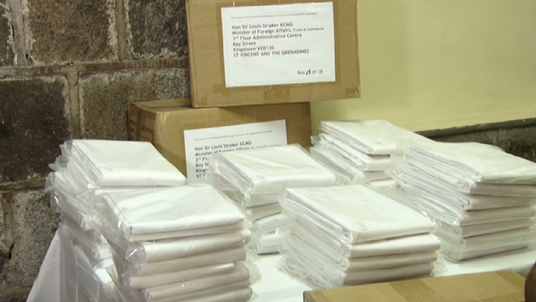 The handing over ceremony was held at the MCMH on Wednesday 18th September, 2019 and was received by Deputy Hospital Administrator of the MCMH, Andrew Williams.
Williams thanked the SVG Redding Association for once again making this timely donation to the MCMH, the Georgetown Diagnostic Centre, Levi Latham and the Chateaubelair Hospitals, where they will be distributed. The Deputy Hospital Administrator said "sheets are one of the more important aspects of donation we can receive."
Permanent Secretary in the Ministry of Foreign Affairs, Sandy Peters - Phillips said, "this donation is expected to increase the linen stock at the Milton Cato Memorial Hospital, making the patients more comfortable." Phillips added that the Ministry is committed to continue collaborating and working with the Ministry of Health and other partners who are willing to assist in ensuring the further development of the hospital.